Mood:thankful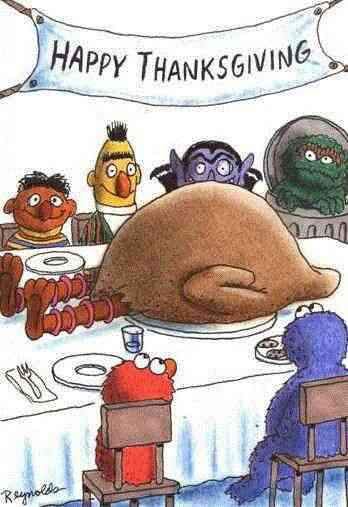 Happy Thanksgiving my loyal followers. While sitting here waiting for the Turkey (it's almost finished and it looks delicious) to be finished;waiting to feast, I thought I'd give a little love to my friends here on Blogger. Just a moment ago I helped my mom cook the Thanksgiving feast. You see, it's just the four of us (my mom, my dad, my baby sister Sophia, and me), so unlike you - we're going to have a small feast.
Why
you ask, aren't you with your Grandparents or such? It's because they are halfway around the globe, that's why. But I don't care that it's just the four of us. I'm just as happy and joyful as the rest of ye' little minions! [:
So this thanksgiving, not only should you be thankful for what you have, but also what you
don't have
(i.e: herpes, AIDS, swine flu...) As I am waiting to feast like a swine, here are some things that I am thankful for this lovely month.
I am thankful for the roof over my head

the food that I'm going to be pigging out on

my parents

my family

I'm thankful that my grandparents on both sides of the family are still healthy and fabulous!

Sophia[:

for the clothes on my skin (& tons in my closet!)

my education

to be healthy this cold Autumn

for the extra money I get to spend on whatever I like

that the world isn't really going to end in 2012 (or is it?) O_o

to be able to eat sushi drenched in soy sauce and wasabi wherever I like

for the lovely country that I am living in.

(And last but not least), I am thankful for my followers, many of whom have become my friends; and most of all - you.
"When asked if my cup is half-full or half-empty, my only response is that I am thankful I have a cup." -

Sam Lefkowitz