Mood:cold;chipper
Honestly, my mood changes so frequently and so quickly. I'm completely fine now, but thanks to those who tried to cheer me up! You guys are
the awesome
. I'm serious. The reason I was angry was a stupid reason; because I got an 7/15 (and E) on a playing test in band, which brought my class in that class down to a B-, but brought my GPA down to a 3.68,
BUT
,
I redid the quiz today after school, and that quickly brought me back up to a A (100%) in that class.
Told you it was a stupid reason. Hey, it's hard work being an overachiever. ;)
Here's a random photo of a mouse in a teacup that I found on glitter-graphics.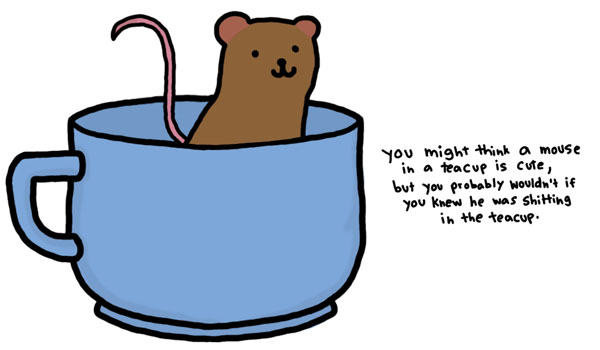 So now my current progress report in school is:
English: A (103%)
Physical Science B: A (100%)
Lifetime Wellness & Fitness (Gym): A (100%)
U.S. History/Geography: A (109%)
Varsity Band: A (100%)
Geometry: A (93%)
GPA:
4.0
Not much else happenin' for now, except
my birthday is in 10 days.
And Christmas in 19.
I'm getting - four Frank Sinatra CDs for my birthday and the 50mm f/1.8 II lens for Christmas. :D Did I ever tell you guys how much I love my parents? No seriously. I truly do love them.
I'll keep y'all updated, kay? So how's your academic life so far? What are your marks? :)
P.S. New post is up on the photography blog.
P.P.S. I have no idea why my posts are being so spaced out between paragraphs when they're perfectly fine when I'm typing them out. >.<"