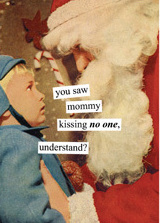 My mom owns a little shop at a weekend market. She sells hair accessories, jewelry, rings, & lots of shiny stuff. Tomorrow I am going to the market to help her friend who also owns a shop there & I have the chance to earn $100 this weekend. I guess I'm pretty lucky that I have the chance to earn my own money and stuff. All I have to do is help the lady sell stuff and watch her things - now that Christmas is drawing so near. It's going to be pretty busy at the market (Gibralter).
I really wanted to sleep in this weekend but that's not happening now. But for $100 it is worth it. People keep asking me what I'm doing for the holidays. I'm not sure yet. Just chill. But I wonder if I have to babysit Sophia too? That would suck. Well...
OK, today in school since it was the last day before Winter Break, we cut snowflakes in Algebra, created Snow-people in Science, Did riddles & scavenger hunts in Language Art and pretty much talked in Social Studies. Then we had to watch this movie called The Princess Bride during SSR. Why would you even buy that movie? It was horrible; I almost died. HORRIBLE! Then we had to watch an old musical called The Music Man in band; it was pretty much torture. They couldn't go 5 minutes without singing? Really? Get it right - the only musicals I like are Broadway musicals.
For my birthday I got iTunes gift cards and $100 from my parents. I still can't believe I'm 14. I don't really feel any different... hmm, maybe age really is just a number.
I need music suggestions from YOU guys now! Would should I buy with $25 of iTunes gift cards? I only have $18.76 left because I already bought some songs...
In other news:
Getting ready for a lonngggggggg day tomorrow (at the market). Have to get up at 10 tomorrow and going home at 10. Then 10am - 8pm on Sunday. There's nothing to do at home, really, so I might as well go and earn some cash. (;
For comments:
Tell me what

you

are doing for the Holidays; otherwise,

leave the

most random comment

you can think of!
Toodles!
Happy Holidays,
Candice
P.S. Check out my Youtube channel; I have some videos of me playing the flute and piano (although I'm not really good). For the link to my channel, go to the sidebar. Leave a comment there or something.
What's on your Christmas list?